Where do we go, where do we go now?
The Toronto film community has known for a while now that the venerable Bloor Cinema is closed for renovations until the Fall, reopening under the management of HotDocs. In the meantime, where's a genre fan to go? Well, Rue Morgue Magazine's monthly Cinemacabre movie night has moved to the Toronto Underground Theatre, and on July 21st is giving us a FREE 35mm screening of Tom Holland's 1985 vampire classic FRIGHT NIGHT! Not too shabby.
Is it possible that you are not savvy to Charley Brewster's battle with his vampire neighbour? Then check out the original trailer here.
Fright Night is The Ultimate Horror Film for any nostalgia lover. The Catalyst of Horror Comedies. A horror film with bite!

Serena Whitney - Exclaim.ca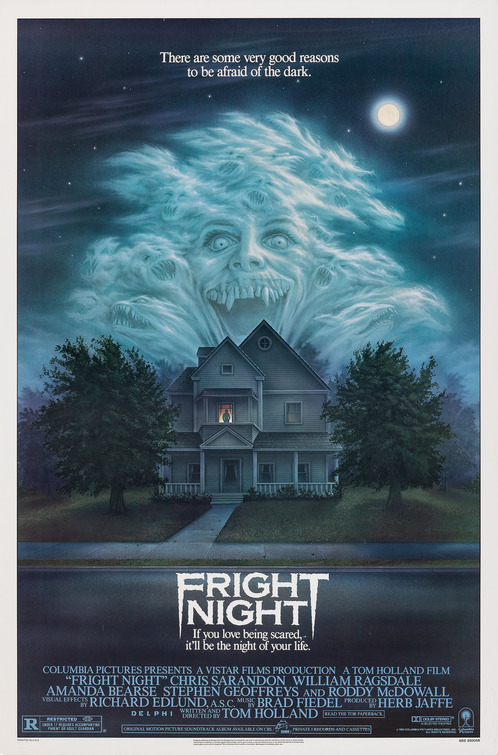 Hey slasher movie, I fell asleep watching you last night, my fault or yours?
FanExpo, Toronto's largest comic book, sci-fi, horror, anime, and gaming  extravaganza runs for 4 days this year, August 25-28, and Rue Morgue magazine has announced the heavy hitters you can stalk at the Festival of Fear.

Robert Englund! John Waters! Elvira!!! Lance Henriksen!

Click the link above for more info. Now that we're back in October, TORONTO AFTER DARK will be working the Expo again, so come pay us a visit.
Get them while you can, passes to a sneak preview of ATTACK THE BLOCK on Wednesday May 25th, AMC Yonge & Dundas. This was a big hit out of SXSW and I am KEEN to see it!
——————————————————————————————————————————
Attention filmmakers! Your film may be a cult film one day, but you cannot consciously create a cult film. Check out this mini-documentary called A Cult Influence.
Found on /Film
Back in 2009 we showed the cool little zombie comedy THE REVENANT. Newly acquired by sales agent Lightning Entertainment, the film is being shopped around the market at Cannes this year, and we finally have some sales art that approaches a poster. Pretty neat.
"Why are there cremated remains in every movie we've watched tonight?!?" - latest meeting of the programming team (2011)"
And so it begins! The Fantasia International Film Festival has come out of the gate with a fresh poster and film announcement. Fantasia will be screening the World Premiere of the anthology film THE THEATRE BIZARRE. I don't believe there's much info out there on what the film is actually about, but here's an official rundown of the talent behind it.
The project's six filmmakers have all made at least one modestly budgeted and internationally acclaimed movie in the horror field. The films of Douglas Buck include the 2003 Sitges sensation Family Portraits: A Trilogy Of America and the recent remake of Brian DePalma's Sisters. Buddy Giovinazzo exploded onto the genre scene with 1986's Combat Shock and went on to write and direct such features as the Tim Roth-starrer No Way Home and last year's acclaimed ensemble drama Life Is Hot In Cracktown (adapted from his novel), as well as numerous works for German television. UK native David Gregory is the industry's foremost documentarian of horror films on DVD, and his 2008 feature debut Plague Town was hailed as "a nightmare captured on celluloid" by Fangoria. In addition to writing and directing Subconscious Cruelty and La Belle Bête, Karim Hussain is also an accomplished cinematographer whose features include the upcoming Hobo With A Shotgun. Arguably horror's best-known special effects wizard for his landmark work on classics that include the original Friday The 13th and Dawn Of The Dead - as well as a popular actor in such films as From Dusk Til Dawn and Machete - Tom Savini directed the 1990 remake of Night Of The Living Dead. South African born Richard Stanley is one of the genre's most distinctive talents, whose visionary cult classics include Hardware and Dust Devil. THE THEATRE BIZARRE marks his triumphant return to horror for the first time in 18 years.
Sourced from Bloody Disgusting and Twitch.
"Why is there a bear in every movie we've watched tonight?!?" - first meeting of the programming team (2011)
Call for entries is open. I want your movies!